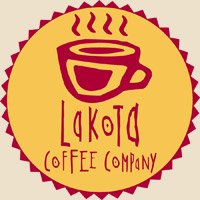 PROPER COFFEE BREWING
Perfecting Your Daily Brew...
---
Welcome to our "in depth" page on Proper Coffee Brewing. If you like, use the navigation menu links to visit articles on different brewing methods. Be sure to check out our favorite brewing solutions to assist in your pursuit of "The Perfect Cup"!
---
BREWING YOUR PERFECT CUP!
---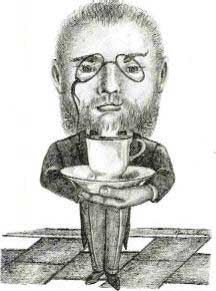 Oh COME ON! What's with all the Rocket Science? You just zip the beans in the grinder doo-dad, dump 'em in the paper thingy and push the bloody button on the watchyacallit! Right?!
Well, maybe that truly delivers the perfect cup for you, BUT...
there are many ways to brew coffee and if you would appreciate specific instructions for each method, you're on the right page.
If there is a certain brewing method that already appeals to you then just click one of the links below to jump right to the article OR if you're happily exploring different methods, just read on!
---
NOTE: The information offered on this site is for your convenience, and of course, it's Free. However, if you are looking for an excellent source of coffee...ahem...please consider giving us a try.
I will say this as humbly as possible:
I simply do not believe it's possible to find better coffee anywhere. (Sufficiently humble?!)
I do not say this lightly. The World Class coffees that we offer are 100% in keeping with the exacting standards discussed on this site. Each type of coffee is hand roasted, giving focused attention to the specific characteristics of its point of origin. Be sure to give us a try. You'll be glad you did. Check out our amazing guarantee below. Thank you.
---
COFFEE BREWING: Page Navigation Links
---
Vietnamese Coffee (Opens in new window)

Cowboy Coffee (Opens in new window)

Vacuum Pot Brewing (Opens in new window)

Turkish Coffee (Opens in new window)

Stovetop Espresso (Opens in new window)

Cuban Coffee (Opens in new window)


---
Coffee Brewing: The Automatic Drip Method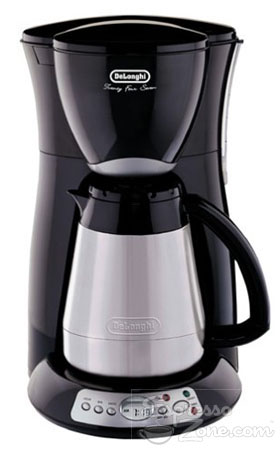 Brewing coffee using unconventional methods is becoming more commonplace but the auto-drip method is still by far the most widely used. Why? Well, coffee brewing with auto-drip is pretty darned convenient and assuming a high quality coffee, most people are happy with the results.
Let's keep it really simple:
To get the best results with your auto-drip coffee brewer, do yourself a favor and read the little book that came with it. I know, I know, I have some resistance too, but I do find that it ends up saving me a lot of grief.
There must be ten thousand different makes and each one has its own peculiar specifications. At least skim the instructions to get some good starting points for your first attempt at coffee brewing. This should keep you from having any unnecessarily anxious moments.
---
NOTE: Once in a while one of our customers will complain that they can't get the same rich, full bodied coffee at home that we have here at Lakota, no matter what they do. We suspect that the reason for this is brewing temperature. Some brewers don't get the water hot enough, causing your coffee to be under-extracted. So when you shop brewers, please make sure that the specifications show a brew temperature that is as close to 190 degrees as possible.
---
Aside from the above, there are only a few important points of concern with the auto-drip method:
Coffee Strength and Flavor (Dosage and Grind)
One of the most asked questions we hear in our shop is "How much coffee should I use?" or "How strong should I make it?" Since this is about your perfect cup, the best answer is "How strong do you want it?"
These instructions assume that you are using an excellent fresh roasted coffee. Also, I can't overstate the impact you will experience if you grind your coffee just before brewing. There is simply no single action I know of that will move you more strongly in the direction of "The Perfect Cup". Where the World's Best Coffee is concerned, quality and freshness reign supreme!
A good starting point is 2 level Tbsp. of (fresh?) ground coffee per 12 oz. cup. Use more or less coffee to your taste. The other critical factor that influences flavor and strength of your coffee brewing effort is the grind setting.
Brewing with an auto drip-maker that uses a flat bottom filter requires a medium grind.
Brewing with an auto drip-maker that uses a cone filter requires a medium-fine grind.
If you grind your own coffee then you should enjoy our page on:

"How to Grind Coffee Properly" to find the best starting points.
Other wise, your friendly coffee shop will be happy to grind for your needs. Just specify whether its for cone or drip.
The Water Supply
As previously stated on this site, you will be amazed by how much difference filtered or purified water makes when it comes to unadulterated flavor. The better the quality of your coffee, the more important this point is. Your coffee brewing equipment will stay happier and healthier too!
Coffee is 99% water, so you're not likely to experience the perfect cup with chemical laden tap water. Bottled or filtered is best, the latter with some type of reverse-osmosis or carbon filter will best do the trick.
NOTE: If you are on a water softener, I have some good news and some bad news. Which would you like first?
O.K. O.K. Bad first: Coffee tastes "flat" without the organic minerals present in most water sources. So coffee made with softened water won't have the lively snap you'd expect.
O.K. I love this part: The Good News!; you can STOP using that water, change to bottled or bypass your softener and filter the water, and when you do, you'll be amazed at how much better your coffee really is! No Kidding!
The Heat Supply
O.K., You have found and purchased some really outstanding fresh roasted, whole bean coffee. You have learned how to grind it and done so perfectly. Then you faithfully followed the humble Roastmaster's advice and read your handy-dandy coffee brewing instruction booklet AND brewed your coffee accordingly.
It is so delicious that you are contemplating the existence of Coffee Nirvana and thinking that maybe I wasn't kidding around and you've actually arrived! Now I want you to look over and see where your pot of delectable fresh brewed coffee is resting...
Uh Huh...it's on the heat isn't it?
No, No, No! Curses!
Bad coffee snob trainee.
Bad, Bad, Bad!
Your first cup was eligible to qualify as a legitimate candidate for the illustrious "Perfect Cup". But the rest of that pot needs to be removed from the heat immediately!
O.K. O.K. So I'm over-dramatizing just to drive the point home. Please understand that within a few short minutes on the heat, your coffee as you knew it, will be gone to a "bitter" place. (Not better)
An inexpensive (or expensive) coffee carafe or air-pot will solve this problem, keeping your coffee hot and fresh and freeing up the brewer to make another pot if you should happen to be entertaining.
There is an even better solution: Purchase an auto-drip unit that brews directly into a thermal carafe, such as the DeLonghi 10-Cup Thermal Coffee Maker pictured above.
Enough said.
---
Brewing With a Chemex Maker
---
What is a Chemex Maker? Well it's a fancy kind of Auto Drip Brewer, uh, well… without the Auto. In other words, you get to provide the "Auto" function.
The Chemex brewer's classic hourglass design is actually an American original and has been honored by the Museum of Modern Art. Its shape creates a built in filter basket but tends to make cleaning a bit tricky.
This is one of our favorite ways to make coffee. Skip (Lakota's owner) brews with Chemex at his home and loves it. Why? Because it gets him fully engaged in the process of brewing, and it makes great tasting coffee. So if you're all about the hands-on approach then you can have some fun with this method and end up with an amazing cup of coffee too!
Please click on the picture of the Chemex Carafe (above) for the best darned, rock solid tutorial we've ever seen on brewing coffee the Chemex way. It will open in it's own special window so that when you're finished, just close up, and you'll be right here where you left off.
This outstanding "How to" article comes from an amazing non-commercial site, appropriately named...
I Need Coffee!

If you would like to purchase a Chemex Coffee Brewing System, we do carry them here at
Lakota Coffee Company. Just follow this link:
---
The Melitta Manual Maker
---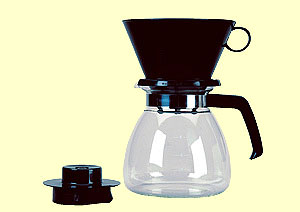 The Melitta Coffee Brewing System was created by a German housewife in 1908. Melitta Bentz was trying to filter the sendiment out of her husbands coffee with a kitchen towel!
Ultimately, she substituted some blotter paper placed over the top of a perforated brass bowl. To this very day, over 80 percent of German households employ this simple, foolproof "Melitta"
filtering system to make their daily brew!
This method of brewing is almost identical to Chemex except the system breaks down to facilitate easier cleaning.
The other pros and cons are the same: You need to heat your own water and manually pour it through the coffee and it should either be consumed immediately or poured into an air pot or insulated carafe to keep it hot.
The big plus is that you have complete control over the water temperature and the amount of time that water is in contact with the grounds. Water "just off boil" is perfect for brewing and from 4 to 5 minutes is optimal for brewing time.
Any of the manual drip methods make it possible to tweak the strength and body of your coffee to your hearts content. And of course (as always), the ultimate destination is your own personalized demonstration of "The Perfect Cup"!
For an excellent article detailing the Melitta Coffee Brewing System from the "I Need Coffee" website, Click Here...


To get detailed instructions on brewing, just follow the Chemex instructions detailed in the Chemex Tutorial...


To purchase a Melitta Manual Coffee Brewing System, just click on the picture of
---
The French Press or Press Pot
(Also Known as a Plunger Pot)
---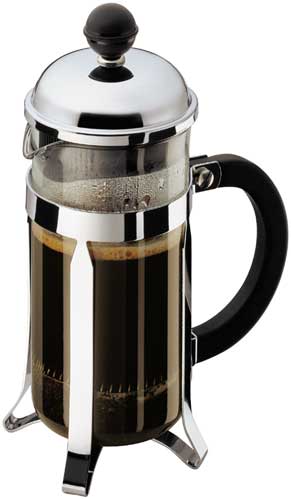 Many experts feel that the "French Press" method of coffee brewing is the best way to experience "The Perfect Cup". It produces a thick, rich cup, full of the aromatic oils that give coffee its flavor.
Also the classic French Press is quite a romantic fixture. It evokes visions of intimate conversation at quaint outdoor cafes on tucked away; lamp lit streets wherever your imagination may take you.
There is surely no more elegant way to serve coffee, whether it is served on a breakfast tray with fresh, warm croissants or scones, or by fireside after a splendid dinner.
What tickles me about this "stylish" brewing method is how similar it really is to "Cowboy Coffee".
(As you will see...)




You can pick up your brand new French Press from us by following this link:
Purchase Your French Press Now!


Indeed, you will find the Press Pot to be a handy coffee companion for camping out. (I always take mine!)
This method of coffee brewing requires that the grounds be stirred directly into the hot water and there is no paper filter, thus the thick, earthy body. Too much so, for some.
Coffee Brewing with a French Press
Since a Press Pot doesn't actually contact a heat source, it is a good idea to preheat the plunger and pot with warm water.
Coffee Brewing: For each cup, measure two level tablespoons of medium to coarse ground (ahem...fresh roasted, that is...I know a place...) coffee into the the glass pot.
---
Note: Ideally, your coffee should be ground on number 12, which is right next to the most coarse grind you can get at your local roastery. Any finer than medium tends to over extract and cause difficulties with pressing the plunger down. Lastly, too finely ground coffee will also end up in your cup... not good to the last drop!

Grinding at home? Check out "How to Grind Coffee Properly"...
---
Your water should be "fresh off the boil" and stirred directly into the grounds with a long handled wooden spoon. (Prevents breakage) Stirring makes certain that the grounds are saturated and properly extracted.
Now set the plunger top in place. Press the plunger down just far enough to eliminate any air. Cover the whole unit with a towel and let the grounds steep. After 4-5 minutes press the plunger down firmly but slowly.
Pour and enjoy!
---
The Toddy Maker (Cold Brew)
---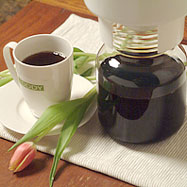 What is a Toddy Maker? Why "cold brew"?
The ancient process of cold coffee brewing was perfected in 1964 with the Toddy Cold Brew System. A chemical engineer graduate of Cornell University named Todd Simpson developed and patented the cold brew system.
His inspiration for the creation was his mother's weak stomach! Apparently she could not handle coffee's natural acidity, a problem completely remedied by drinking coffee from a Toddy Coffee brewing system.
You can use your favorite coffee to produce a coffee concentrate that is much stronger than hot brewed coffee, yet 67% less acidic. It produces a bold, super-smooth brew that can be refrigerated for up to 14 days with no loss of quality.
You just pour a shot of concentrate into your cup; add hot water, and Voila! Your favorite cup of hot Joe-minus the acidity.
There are several advantages to this coffee brewing system:
* The obvious one is lower acidity for those of us who have sensitive stomachs or problems with acid reflux.
* It's great for households where guests or house members awaken at different times throughout the morning. (Or day - for you night owls.)
* The Toddy concentrate makes excellent iced coffee. . No need to chill hot brewed coffee, just pour a shot of concentrate over ice and add water! Or for a really luscious treat, add milk or a splash of cream instead!
Here at Lakota, a summer-time house favorite is our outstanding cold brewed Ethiopian Yirgacheffe - over ice. Delicious!
For a great Toddy Coffee brewing tutorial just click below on the "I Need Coffee" icon!


To purchase your Toddy Maker go here:

Toddy Cold Brew Coffee Package

(When this page opens, you'll need to scroll down until you see the TODDY emblem)
---
In Closing: Check Out The Lakota Guarantee!
---
I hope that you have enjoyed our coffee brewing page and found it helpful. If you would like to give Lakota Coffee Company and Roasters a try, We offer this simple, straightforward guarantee:
You will be absolutely amazed at the aroma, flavor, and body of your fresh roasted coffee purchase.
You also get our no strings attached, no questions asked guarantee that it will be the very best or at least among the very best coffees that you have ever experienced or you get every penny back including shipping!
You don't risk a dime and don't even bother returning the coffee! Consider it our gift for giving us a try.
What! Are we nuts?
No, it's just that we know what we have.
Lakota Coffee Company's Fresh-Roasted Special Blends, Varietals, Decafs, and Flavored Coffee selections are in keeping with all of the exacting standards discussed in this site and we would like to share our experience of "Coffee Nirvana" with you!
With that in mind, we are willing to take all the risk and in turn, you get a selection of coffee that is second to none and a legitimate shot at
"The Perfect Cup!"
Just click below on Lakota Home to place your order!
Thanks and Enjoy!

Browse Coffee Selections @ Lakota Coffee.com

Thank you for visiting our Coffee Brewing Page! (Back to Top)