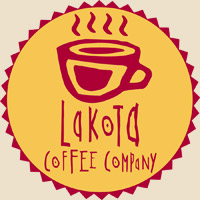 JAMAICAN BLUE MOUNTAIN COFFEE
---
The famous Wallensford Estate in Jamaica produces a distinctly sweet aromatic coffee that features prominent fruit-like flavors.

---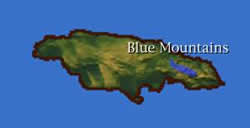 WHAT OUR GREEN COFFEE IMPORTER HAS TO SAY:
Jamaican coffee IS . . . Jamaican Blue Mountain coffee. It is consistently the highest priced coffee in the world, and with these prices (up to 20 times regular coffee) there is a very strict certification program to insure that if you buy Blue Mountain coffee you get Blue Mountain coffee.
Sometimes you will see Jamaican High Mountain coffee. High Mountain is coffee grown outside of the Blue Mountain region, and thus, does not carry the Blue Mountain name. The major producers of Jamaican Blue Mountain are Wallenford, Mavis Bank, Old Tavern Estate, and Moy Hall. We cup and choose from these elite sources only for Blue Mountains we carry.
Jamaican Blue Mountain fits the Island coffee profile (Hawaiian, St. Helena, Puerto Rico) of balanced, rich, delicate, and mild. These coffees comes in wooden barrels rather than in the familiar burlap bags, and most of the 165 barrels go straight from Jamaica to Japan, where the coffee fetches a very high premium.
Is the price of this coffee worth it? It's kind of a relative question, as in what makes a diamond worth so much? Rarity in supply, and high demand, plus desirable characteristics. If you want Jamaican Blue Mountain, you won't be getting any discounts from the Jamaicans and if you're getting discounts, you're not getting Jamaican Blue Mountain coffee.
---
PROFILE FOR JAMAICAN BLUE MOUNTAIN COFFEE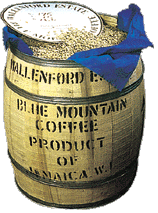 Origin Jamaica:
Geographic Coordinates: 18 15 N, 77 30 W
Population: 2,665,636
Cup Profile: Mellow, Balanced, and Rich
Currency: Jamaican Dollar
Language: English, Creole
Ethnic Groups: black 90.9%, East Indian 1.3%, white 0.2%, Chinese 0.2%, mixed 7.3%, other 0.1%
Production: (millions lbs.) N/A
Exports: (millions lbs.) N/A
Botanical Varieties: Blue Mountain, Typica Growing Regions: Blue Mountains
Wet Processed: Yes
Altitude: Meters 600-2000
Introduced: Introduced from Martinique in 1725
Harvest Times: Jan-Mar
---